Regulation 19 Pre-submission Local Plan
Chapters and appendices that make up the Regulation 19 Pre-submission Local Plan.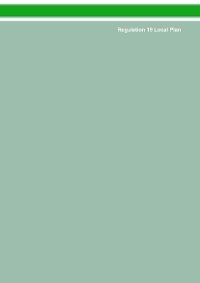 The Uttlesford Local Plan was adopted in 2005. It still forms the basis for making planning decisions within the District alongside the National Planning Policy Framework (NPPF) published in March 2012 and the Planning Practice Guidance but it is becoming increasingly out of date. A new Local Plan is needed to effectively guide how the District grows, ensuring its unique character is protected and enhanced, and to reflect more recent Government policy.
The new Uttlesford Local Plan will be part of the statutory planning framework for the District to 2033 guiding decisions on all aspects of development. The new Local Plan will set out how and where new homes, jobs, services and infrastructure will be delivered and the type of places and environment that will be created.
Regulation 19 Pre-submission Local Plan sections
Title page [128.85KB]
Contents [93.19KB]
Foreword [132.5KB]
1 Introduction [151.07KB]
2 Spatial Portrait, Vision and Objectives [127.68KB]
3 Spatial Strategy [405.11KB]
4 Housing [194.66KB]
5 Employment [212.49KB]
6 Retail [128.7KB]
7 Transport [142.67KB]
8 Infrastructure [142.78KB]
9 Design and Construction [142.92KB]
10 Environment [189.22KB]
11 Countryside [114.21KB]
12-34 Site Allocations [301.2KB]
36 Delivery and Monitoring [131.85KB]
37 Glossary [125.08KB]
Appendices
Appendix 1 - Replacement Policies [123.7KB]
Appendix 2 - Monitoring Framework [125.68KB]
Appendix 3 - Housing Trajectory [275.63KB]
Appendix 4 - Garden Community Principles [114.8KB]
Appendix 5 - Marketing Assessment Information [107.52KB]
Appendix 6 - Existing Employment Sites Schedule [101.81KB]
Appendix 7 - Inset Maps [25.87MB]
Policies map
Policies Map [12.99MB]
Policies Map Key [338.97KB]