Be safe, not sorry, this bonfire night
Essex County Fire and Rescue Service is urging everyone to take necessary precautions, and to be considerate of others during any celebrations.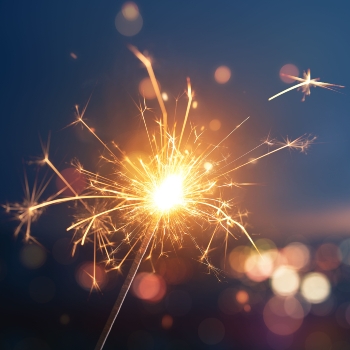 With hundreds of people suffering injuries from fireworks each year, Essex County Fire and Rescue Service (ECFRS) is urging everyone to take necessary precautions, and to be considerate of others during any celebrations.
In the last 5 years more than 3,500 people have been admitted to hospital as a result of injuries caused by fireworks, with the majority of these happening at events or parties held in residential settings.

Attend a public display
ECFRS says that it is safer, and often less expensive, to attend organised public firework displays.
Run by professionals, with suitable precautions in place, there are often emergency service workers on standby, in case of an emergency.

Respect your neighbours
Fireworks can frighten people and animals.
The elderly and children are frequently scared and intimidated by firework noise. After all, fireworks are explosives. Tell your neighbours if you're a planning on letting off fireworks and avoid purchasing really noisy ones.
If you plan to let off any fireworks, let your neighbours know in advance so they can plan for pets and farm animals that might be affected. We have put together some advice on animal safety.
Our local pledge
In 2020 we pledged to help to make fireworks safer and quieter. This can help everyone to enjoy bonfire night responsibly and prevents distress to pets and other animals.
We're also committed to encouraging all public firework displays within Uttlesford District Council's administrative boundary to be advertised in advance of the event.

Respect your fireworks
If you are hosting a private event you should familiarise yourself with the Firework Code.
The Firework Code
Fireworks should be treated with respect and only used in accordance with the manufacturer's instructions and the Firework Code.
To keep safe and always follow the Firework Code safety rules. To stay safe you should:
only buy fireworks marked CE
not drink alcohol if setting off fireworks
keep fireworks in a closed non-flammable box
follow the instructions on each firework
light them at arm's length, using a taper
stand well back
never go near a firework that has been lit. Even if it hasn't gone off, it could still explode
never put fireworks in your pocket or throw them
always supervise children around fireworks
light sparklers one at a time and wear gloves
never give sparklers to a child under 5
keep pets indoors
not set off noisy fireworks late at night and never after 11pm
Find more information about bonfire and firework safety on the ECFRS website.
The Office for Product Safety and Standards has produced some safety guidance on how to use fireworks responsibly, protecting people and keeping animals away from harm.

Respect the emergency services
We are currently amidst a global pandemic and we are asking people not to take risks, putting additional pressures on our emergency services.
If you can't attend an organised fireworks event this year please be extra careful if you choose to have a firework display at home.
You can avoid injuries by following the Firework Code, but if someone does have an accident here is what you should do:
cool the burn with running cold tap water for 20 minutes and remove all clothing and jewellery (unless it is melted or firmly stuck to the wound)
call for help for any burn larger than a 50p coin: Call 999, 111 or your local GP for advice
cover a burn with cling film or a sterile, non-fluffy dressing or cloth. Make sure the patient is kept warm while you wait for help

When to contact the police
If you have concerns around antisocial behaviour or believe a criminal offence is being committed during Bonfire Night, you can report it to Essex Police online, through their digital 101 service or call them on 101.
Please only call 999 if someone's life or property is in immediate danger or if there's a crime in action taking place.
If there is no immediate risk to you, someone else or a property, consider if one of the other ways of contacting Essex Police would be more suitable.
You can also read more about antisocial behaviour and the law around using fireworks on Essex Police's website.