Community Stakeholder Forum named as finalist regional planning awards
Uttlesford District Council's innovative Local Plan Community Stakeholder Forum has been nominated for a prestigious award.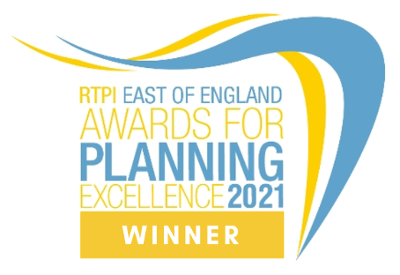 The Forum, which launched in October 2020, ran for six months and covered nine themes - or 'mini-consultations' - about the things that matter most to the people of Uttlesford. This was a new approach to public engagement and provided an opportunity for the community to share ideas as part of the local plan-making process.
The project has now been put forward as a finalist for the East of England Awards for Planning Excellence 2021 by the Royal Town Planning Institute (RTPI). The awards highlight exceptional examples of how planning and planners have a positive impact on quality of life in creating exceptional places and protecting the environment.
A virtual awards ceremony where the winners will be announced will be held on 30 November.
Cllr John Evans, Portfolio Holder for Planning and the Local Plan, said: "These regional awards celebrate outstanding planners, plans and projects that demonstrate high quality work and professionalism. We believe the Community Stakeholder Forum project represents one of the very best examples of planning in our region, and we are delighted it has been put forward as a finalist."
The consultation has now closed but the forum meeting and the responses can still be viewed on the council's local plan webpage.
7 September 2021