Spotlight on ... Oakray
Oakray is one of many contractors who work with us. They have a commitment to helping people who work for them to develop through training and on the job experience.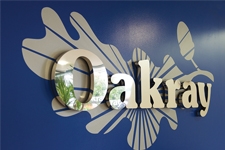 Free workshops on CV writing and interview skills
Oakray are offering a free 1-1, online CV development and interview skills techniques workshop to anyone who may be out of work and are currently seeking a new position. There are two 30 minute slots available per week at present and the workshop is delivered via a GoToMeeting session.
The workshop covers:
Tips on what to include, what not to include, what makes the CV stand out, how to present the CV on the page etc.
Interviewing skills techniques
Preparation, tips on the interview itself, discussion on potential interview questions that may arise
For more information please contact Georgie Mottram from the Oakray HR Department.
Tel: 020 8370 4500 ext. 108
Website: Oakray
Who are Oakray
Oakray provides mechanical, electrical and security services and solutions to a wide range of commercial and domestic clients including Uttlesford District Council.
Whether you're looking for your first job or for a change of career Oakray has a number of schemes to help you.
Work experience
For anyone starting out who might want to get some experience of working for a large employer.
Here is what you get:
Two week placement
Various training
A mentor for the time you are with us
A reference for future use
Certificate of achievement
Pre-apprenticeship
If you are thinking about applying for an apprenticeship but are not sure then you can get a taster with our pre-apprenticeship scheme.
Here is what you get:
Minimum of six week programme
Travel expenses and lunch paid for
Various training which is relevant to the sector of the industry you are interested in
A personal mentor
Obtain a reference for future employment
Certificate of achievement
Opportunity to progress
Apprenticeship scheme
Apply to be become an apprentice and gain a wide range of skills to help develop you career.
Here is what you get
Minimum of 1 year in full time employment
Competitive salary
Various training which is relevant to the industry
Obtain a reference for future employment
On-the-job learning and ongoing support
Obtain a recognised NVQ qualification
Opportunity to progress
Current opportunities with Oakray
Vacancy alert - .
Or, to find out more, just visit the Oakray Careers and Opportunities site.
---
Contact Oakray
For more information on our Apprenticeship scheme, please contact Georgie Mottram from the Oakray HR Department.
Tel: 020 8370 4500 ext. 108
Website: Oakray