Spotlight on ... Oakray
Oakray is one of many contractors who work with us. They have a commitment to helping people who work for them to develop through training and on the job experience.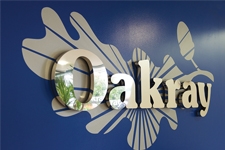 Oakray provides mechanical, electrical and security services and solutions to a wide range of commercial and domestic clients including Uttlesford District Council.
Whether you're looking for your first job or for a change of career Oakray has a number of schemes to help you.
Work experience
For anyone starting out who might want to get some experience of working for a large employer.
Here is what you get:
Two week placement
Various training
A mentor for the time you are with us
A reference for future use
Certificate of achievement
Pre-apprenticeship
If you are thinking about applying for an apprenticeship but are not sure then you can get a taster with our pre-apprenticeship scheme.
Here is what you get:
Minimum of six week programme
Travel expenses and lunch paid for
Various training which is relevant to the sector of the industry you are interested in
A personal mentor
Obtain a reference for future employment
Certificate of achievement
Opportunity to progress
Apprenticeship scheme
Apply to be become an apprentice and gain a wide range of skills to help develop you career.
Here is what you get
Minimum of 1 year in full time employment
Competitive salary
Various training which is relevant to the industry
Obtain a reference for future employment
On-the-job learning and ongoing support
Obtain a recognised NVQ qualification
Opportunity to progress
Current opportunities with Oakray
Vacancy alert - .
Or, to find out more, just visit the Oakray Careers and Opportunities site.
---
Contact Oakray
For more information on our Apprenticeship scheme, please contact Georgie Mottram from our HR Department.
Tel: 020 8370 4500 ext. 108
Website: Oakray