Digital Boost for Business Grant
Businesses based in Uttlesford can benefit from a grant of up to £2,500 to help develop their digital services.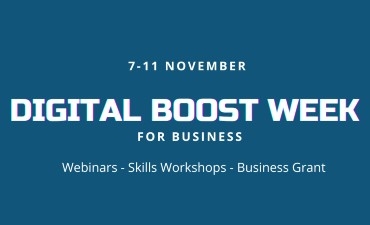 This scheme offers grants of up to £2,500 to all businesses in Uttlesford to support them to develop or improve their website and social media platforms, to develop online booking systems and e-commerce platforms if appropriate.

Who it's for
SMEs and sole traders in the Uttlesford District.

How much you can apply for
Grants will cover up to 50% of the costs towards eligible projects, up to the maximum value of the grant.
The minimum application value is £250 and any grant will need to be matched with an equal sum of money (i.e. if the grant is £2,500 you will need to include £2,500 of match funding).
What you can apply for
You can apply for a grant to fund:
a new business website or an upgrade to an existing website
an online booking system for the business
an e-commerce platform for online sales
creation of a mobile app
support to establish social media platforms and develop skills to maximise their use
digital skills training courses
What you cannot apply for
You cannot apply for a grant to fund:
the purchase of hardware
maintenance of existing digital technology
domain name and website hosting as a stand-alone cost
paid advertising e.g. Google AdWords, Facebook etc.
The grant will not cover any retrospective expenditure.

Before you start
You should be the person authorised to make the application on behalf of your organisation.
To complete this form you will need to upload:
a quote for the services you wish to cover (any applications over £2,000 will require 3 quotes)
evidence that you have the 50% match funding such as a copy of savings account bank statement
a recent bank statement
You'll also need to :
provide an outline of your proposal
explain the expected benefits to your business if you receive this grant
You can find more information about the grant, who is eligible and how to apply in our Digital Boost for Business Grant Policy.

How to apply
You can apply using our online form.
The closing date for applications is 5pm on Tuesday 31 January 2023 or until such time as the funding is exhausted.
We recommend that you apply as early as possible as funding is limited and will be allocated on a first come first served basis.

After you apply
We will let you know if your grant application has been approved or rejected via email.
If you are given a grant
If you are given a grant it will be paid in arrears. You will need to provide us with:
proof of payment
copies of the relevant invoices
⚠ Invoices dated before the date of the offer email will not be eligible for payment.
You must send all relevant invoices to us no later than Wednesday 15 March 2023.
All applicants will be offered information about free digital skills training that is available, or more specialist digital business support services.