North Essex Economic Board
The North Essex Economic Board (NEEB) is a partnership of local authorities in the area working together to drive economic growth across the region.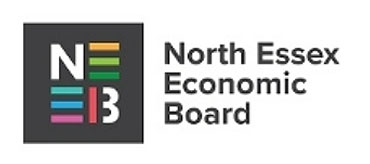 The partners on the broad are:
Braintree District Council
Chelmsford City Council
Colchester Borough Council
Essex County Council
Maldon District Council
Tendring District Council
Uttlesford District Council
The NEEB is committed to supporting businesses to help them recovery from Covid-19 and to promoting economic growth and investment in the area.
Business support courses
The board has a series of fully-funded business support packages. These offer training and advice to business within North Essex on a whole range of topics from building your start-up and finance to digital skills and import/export support.
Start-up support
A comprehensive course for those starting up or developing a new business, taking you through the process of setting up and structuring your business.
Introduction to finance
Helping you to understand the fundamentals of finance and tax within your business.
Import and export support
Training for companies looking to start importing/exporting, or those already in the industry and would like to enhance their skills.
Digital skills and cyber security
Digital skills online sessions covering social media, project management, online sales, and your website.
Cyber security online session helping to protect you and your business from cyber threats and online fraud.
Transitioning to low carbon
Providing support for your businesses to become carbon neutral and reduce your impact on the environment.

Join a course
You can find details of all the courses and how to sign up on the Colbea website.
For further information email enquiries@colbea.co.uk or call 01206 548833.

Find business support
You can find help on how to get support for your business from the NEEB and other sources on the BEST Growth Hub website.

Skills support
The NEEB has funded a number of programmes to help local residents improve their skills, helping them to find work or change career.
Shaw Trust
The Shaw Trust is working with residents recently unemployed or redundant due to Covid-19 to complete training and placements in businesses across a number of key sectors.
This will give you the new or updated skills to help you back into work. Key sectors include construction, health and social care, logistics and manufacturing, customer services and digital skills. You can find out more at find out more about the Shaw Trust courses on the Shaw Trust's Ixion website.
We Are Digital
Inclusion training aimed at those with little or no IT skills, teaching them computer literacy and how to connect with the online world. The programme also includes providing them with a tablet and data connection.
To find out more call 0114 551 2551 or email NEEB@Braintree.gov.uk for a referral.
Tech Talent
Certified courses in IT qualifications and apprenticeships from the Tech Talent Academy will help to upskill you and support you into entry-level jobs within the industry. The programme includes software, data, cloud and cyber skills.
You can find out more about the latest Tech Talent courses on their Office 365 calendar page.