Conservation area appraisals
We have completed a programme of conservation area appraisals in Uttlesford.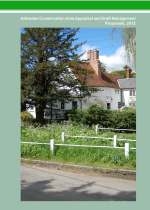 The aim is to investigate the best way to protect our heritage in a time of increasing pressures.
Each appraisal examined the qualities of the area and identified potential changes that are positive and others that may be damaging. The existing boundaries of the conservation areas have been reviewed and suggestions for adjustments made. Management proposals have been put forward which, for example, have included a range of appropriate environmental and highway improvements.
The end product is an illustrated document, which following consultation and adoption, will now be used as a planning tool to secure environment improvements and to protect the qualities of the area through the Development Control process.
All of the Conservation Areas in the district have now been surveyed. The approved reports and maps of the boundaries can be found below.
You can view local conservation areas within the Uttlesford district by using our online mapping system.

Approved conservation area appraisals
Conservation area appraisals have been approved for all of the settlements listed below.

Arkesden Conservation Area Appraisal [2.92MB]


Arkesden conservation area map [1.02MB]

Ashdon Conservation Area Appraisal [3.42MB]


Ashdon conservation area map [282.85KB]

Audley End Conservation Area Appraisal [4.25MB]


Audley End conservation area map [214.83KB]

Bentfield Green Conservation Area Appraisal [3.26MB]


Bentfield Green conservation area map [179.32KB] (Note: No revisions were made)

Clavering Conservation Area Appraisal [3.17MB]


Clavering conservation area map [328.27KB]

Elmdon Conservation Area Appraisal [2.69MB]


Elmdon conservation area map [255.35KB]

Felsted Conservation Area Appraisal [3.71MB]


Felsted conservation area map [296.19KB]

Great Canfield Conservation Area Appraisal [2.33MB]


Great Canfield conservation area map [705.0KB]

Great Chesterford Conservation Area Appraisal [5.91MB]


Great Chesterford conservation area map [439.91KB]

Great Dunmow Conservation Area Appraisal [3.27MB]


Great Dunmow conservation area map [948KB]

Great Easton Conservation Area Appraisal [2.23MB]


Great Easton conservation area map [190.33KB]

Great Hallingbury Conservation Area Appraisal [2.47MB]


Great Hallingbury conservation area map [413.16KB] (Note: No revisions were made)

Great Sampford Conservation Area Appraisal [2.69MB]


Great Sampford conservation area map [134.51KB]

Hadstock Conservation Area Appraisal [3.69MB]


Hadstock conservation area map [250.27KB]

Hatfield Broad Oak Conservation Area Appraisal [4.31MB]


Hatfield Broad Oak conservation area map [221.95KB]

Hazel End Conservation Area Appraisal [9.85MB]


Hazel End conservation area map [100.03KB]

Hempstead Conservation Area Appraisal [2.54MB]


Hempstead conservation area map [167.56KB]

Henham Conservation Area Appraisal [3.47MB]


Henham conservation area map [727.13KB]

High Easter Conservation Area Appraisal [3.7MB]


High Easter conservation area map [180.89KB]

High Roding Conservation Area Appraisal [2.05MB]


High Roding conservation area map [272.73KB]

Lilttlebury Conservation Area Appraisal [3.85MB]


Littlebury conservation area map [451.65KB]

Little Dunmow Conservation Area Appraisal [3.01MB]


Little Dunmow conservation area map [408.32KB] (Note: No revisions were made)

Little Easton Conservation Area Appraisal [3.03MB]


Little Easton conservation area map [119.81KB]

Manuden Conservation Area Appraisal [4.24MB]


Manuden conservation area map [479.02KB]

Newport Conservation Area Appraisal [3.54MB]


Newport conservation area map [481.87KB]

Quendon and Rickling Conservation Area Appraisal [4.81MB]


Quendon and Rickling conservation area map [227.91KB]

Radwinter Conservation Area Appraisal [3.15MB]


Radwinter conservation area map [1.01MB] (Note: No revisions were made)

Saffron Walden Conservation Area Appraisal 2018 [7.24MB]


Saffron Walden conservation area map [3.86MB]

Stansted Mountfitchet Conservation Area Appraisal [4.62MB]


Stansted Mountfitchet conservation area map [196.7KB]

Sebbing Conservation Area Appraisal [2.4MB]


Stebbing conservation area map [262.12KB]

Thaxted Conservation Area Appraisal [5.32MB]


Thaxted conservation area map [454.87KB]

Wendens Ambo Conservation Area Appraisal [2.88MB]


Wendens Ambo conservation area map [559.25KB]

Widdington Conservation Area Appraisal [2.24MB]


Widdington conservation area map [748.38KB] (Note: No revisions were made)
---
Videos