Community green project
Calling on neighbours and families across Uttlesford to set up local community green projects.

I would like to try and galvanize neighbours and families across Uttlesford to set up local community green projects.
I was motivated by a family in Saffron Walden who set up their own green project that involved neighbours and family members. They started by contacting their neighbours and explaining to them, why they felt it was necessary to help their local wildlife, which has sadly declined by 60% since 1970.
They wanted to enhance their local biodiversity and to come up with solutions that work for everyone.
Here are some of the most popular suggestions:
• Bird & bat boxes placed on trees
• Bee, insect & wildlife hotels
• Wood piles for invertebrates
• Planting of beech trees on Beeches Close
• Planting diverse species
• Ensuring that no pesticides are used
• Checking that trees are not too overrun with strangling ivy
• Ensuring that visibility is maintained for turning traffic
• One excellent idea was the provision of signage to explain any project that we might get going and the benefits of any approaches taken

Kensington Palace wildflower meadows
They visited London during half term and were inspired by some large areas outside Kensington Palace where grass has been left to grow and wildflowers have been sown. They looked great - incorporating mown paths and benches along with cleared patches around the trees. They appeared both well managed, yet very natural and were also buzzing with insects and children playing. If it's good enough for royalty - then it's good enough for everyone ...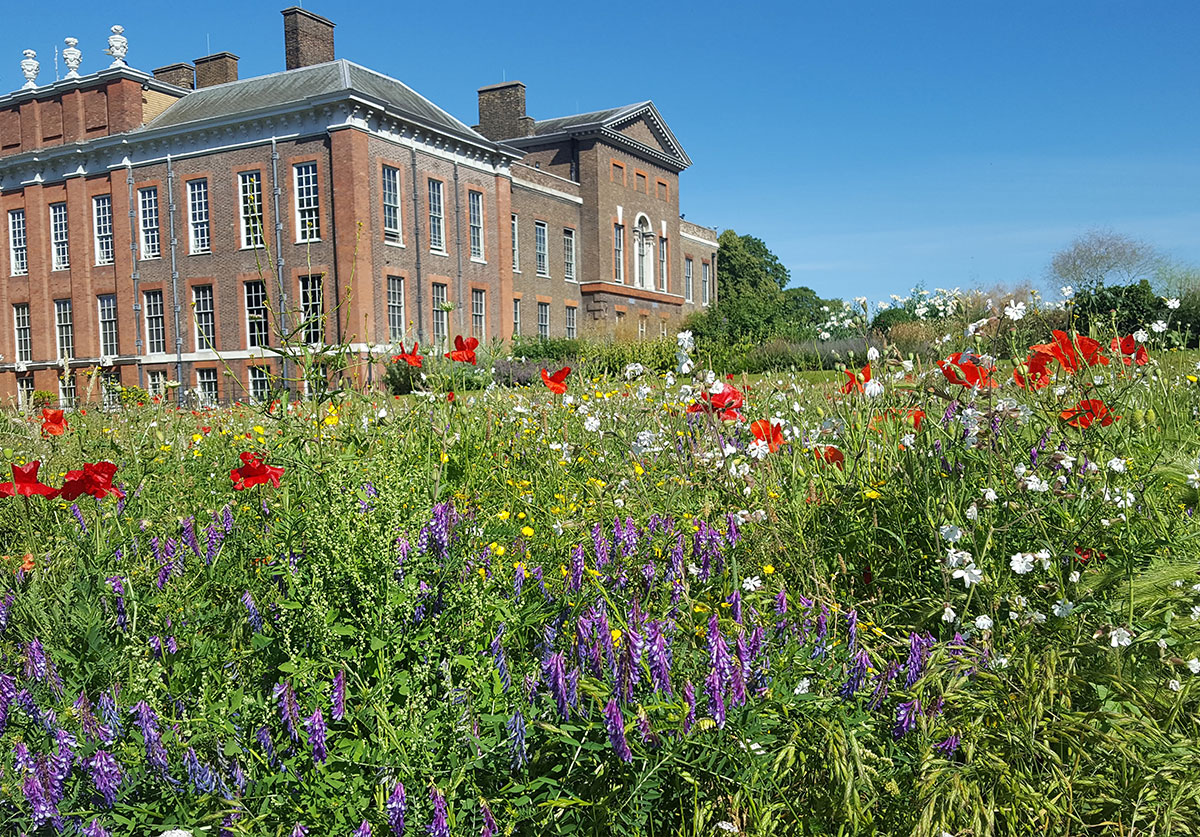 Local wildflower meadows
They spoke to the District Council a couple of weeks ago about ensuring that paths were kept clear on the verges. With plenty of sun and rain, growth had taken off and access had become a little difficult in places. They now mow these paths and ensure that the edges are clear for visibility. It has smartened up the verges, whilst still leaving plenty of uncut areas allowing the wild plants and flowers to remain. Furthermore, it makes for comfortable, pleasant walking across the verges under the trees and through the plants verges under the trees and through the plants.

They did a survey of the plants on the verges a short while ago and were astonished at how many species have popped up since the verges were last mowed. They ended up (with the help of the Leaf Snap app) counting an astonishing 37 different plant species including 27 different types of flowers!
The full list of flowers we identified are....
Forget Me Not Common Daisy Narrow Leaf Plantain Creeping Buttercup Cow Parsley Dandelion
White Dead Nettle Herb Bennet
Heal All
Dovefoot Cranesbill Hoary Plantain White Cockle Meadow Buttercup Grape Hyacinth Woodland Ragwort Meadows Cat Tail Dutch Clover Yarrow
Dyers Rocket Oxtongue
Rough Milk Thistle Shepherd's Purse Hedge Mustard Common Mallow Common Fumitory Common Poppy Common Mouse Ear
Saffron Walden Town Council (SWTC) have now mowed all other small and medium verges around the town. They are pleased that SWTC embraced No Mow May. They are cutting later than previously and taking steps to manage their areas in a more environmentally friendly way. Thanks also to Uttlesford District Council that we still have flowers on our verges - the bees and insects are certainly happy about that!
This shows you that anyone who has a passion for nature and that cares for their local green surroundings, can become a Community Green Champion that will help to protect our precious local biodiversity and planet.
Let's make 2021 the year of climate action and smart environmental choices
Cllr Louise Pepper
Portfolio holder for Environment and Green Issues and Equalities