Conservation areas
Find out about conservation areas and the permissions that you might need if you are developing a property in one.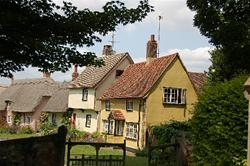 Conservation areas - what are they?
Conservation areas are environments which are considered worthy of protection as a result of a combination of factors such as the quality of design and setting of the buildings or their historic significance. In addition to the individual qualities of the buildings themselves, there are other factors such as the relationship of the buildings with each other, the quality of the spaces between them and the vistas and views that unite or disrupt them. The interaction with adjoining areas and landscape, the quality of trees, boundary treatments, advertisements, road signage, street furniture and hard surfaces, are also important features which can add to or detract from the conservation area.
Uttlesford currently has 39 designated conservation areas, four of which benefit from additional protection under Article 4 Directions.

Is my house in a conservation area?
You can find out whether your property falls within a conservation area by using our online mapping system.
Find out if your house is in a conservation area

Conservation area appraisals
We carry have carried out appraisals of all of the conservation areas in the district to help us understand their history and what makes each of them special.
See all of our conservation area appraisals 

Planning permission in conservation areas
There are stricter planning controls in conservation areas than in other places, so you might need to get permission before you carry out any type of development.
Find out more about planning permissions you may require in conservation areas on the Planning Portal.
---
Additional information
Videos