Keep me posted
Keep me posted is the email newsletter and alerts service from Uttlesford District Council.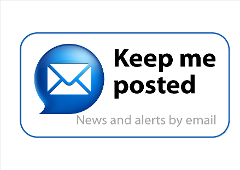 Updates on our service due to coronavirus
We are sending weekly updates about COVID-19 to our residents. Sign up to receive important information and updates on our services.
You can now sign up for relevant, bite-sized chunks of information on topics such as recycling, planning, health and wellbeing, job vacancies, emergency alerts and extreme weather. There will also be a signpost service to a range of local services.
When you sign up you can choose what news alerts you want to receive, and can opt in or out of the service or individual topics.
To sign up you will simply need to submit your email address and chose the e-newsletters that you would like to receive.
Managing your Keep me posted subscription
We use a system called GovDelivery to manage our mail newsletter and alerts service. If you need any help with managing your subscription, such as changing the newsletters you receive or cancelling subscriptions you can find information on the GovDelivery help site.
---
Additional information