Registering to vote
If you want to vote in future elections you will need to make sure you are registered.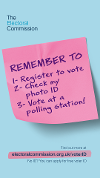 You can use this service to:
get on the electoral register so you can vote in elections or referendums
update your name, address or nationality by registering again with your new details
How to register if you're not already registered
You can apply to register via the government website. It's simple, quick and secure. Remember to have your national insurance number to hand before you start.
If you prefer, you can also download a paper registration form on the GOV.UK website to complete and return by post, or you can scan and email it to us.
You can only register yourself to vote. You can't register a family member, even if they live in the same property.
Easy read guide
Read a step-by-step, easy read guide to registering to vote. This guide on GOV.UK is an example of an application to register to vote.

How to register when you move house
When you move house within the district you need to re-register by visiting the registering to vote page on GOV.UK where you can enter the details of your new address and provide us with the details of the address you have moved from.

How to register is you live abroad or are away from home
There are special arrangement for you to register to vote if:
What happens when you apply to register
When you register online or by returning a paper form your details will be checked against other records to confirm your identity.
If your details are confirmed, you will receive a letter telling you that you have been successfully registered.
If your details cannot be confirmed, we will write to you asking for more information to confirm your identity. The letter will explain what you will need to do.

Watch a video of how to register online
Watch a short demo video on YouTube showing you how you can register online to vote.

Anonymous registration
Legislation came into effect in 2007 which enables persons who would be at risk of danger if their name and address were to appear in the electoral register to register anonymously.
For example, you can apply if:
you are escaping from domestic violence
your occupation means you must keep your identity private.
You cannot use anonymous registration as an ex-directory scheme.
This means that only an electoral number would be shown in the register under a separate section. All electoral documents would be treated in strict confidence and not available to the general public. This also applies to any person living in the same household as another person who is at risk.
Application forms and further information can be obtained from the Electoral Commission. Please contact us if you wish to discuss the matter.
If you application is successful, your anonymous registration lasts for one year. We will write to you three months before your registration is due to expire.

Voter ID
Electors are required to show an accepted form of photographic identification to cast their vote in person as from May 2023. Find out what are accepted forms of photo identification.
If you don't already have an accepted form of photo ID, or you're not sure whether your photo ID still looks like you, you can apply for a free voter ID document know as a Voter Authority Certificate (VAC).

Change of address
Registering to vote does not automatically mean you are on the Council Tax register. If you have either moved into the district or within the district, please register for Council Tax at your new address. You can find out how to do this on our Moving house? page.

Change of name
If you have recently changed your name, such as through marriage or by deed poll, the register of electors needs to be updated to enable you to vote.
Please complete the Change of name on electoral register form and submit it with supporting evidence.
We need to see evidence of your new name via an official document such as a copy of your new passport or driving licence; a copy of your deed poll or if it is due to marriage, your marriage certificate.

Get help registering
You can get advice about registering to vote from the electoral office.

Get a certificate of residency
To get proof that you are on the current register of electors for your address you can ask for a certificate of residency.
---