Keep Safe
Keep Safe is an innovative scheme to help vulnerable people feel safe when they are in our town centres.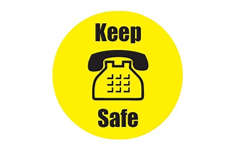 Organised by the Uttlesford Community Safety Partnership (CSP), the scheme currently operates in Great Dunmow and Saffron Walden, and has the dedicated support of local traders and businesses that act as Keep Safe venues - creating a network of safe places for people to go if they need help while in town.
People who sign up to Keep Safe are given a key ring and card to write the number of someone they wish to be contacted if they need assistance while out and about in the town - for example, if they lose their mobile phone, purse or bus pass, or they are distressed in any way. They can show the card in the venues involved to get instant access to help in non-emergency situations.
These venues will display the Keep Safe sticker in their windows, and staff will allow members the use of a telephone or will make a phone call on their behalf in an emergency.
The participating Keep Safe venues in Uttlesford are:
Great Dunmow: The Flitch House, Scrumptious Tea Rooms, the Library, Great Dunmow Leisure Centre, and Uttlesford Community Hub
Saffron Walden: Boots, Costa Coffee, Craft Days, Goddards Electrical, The Mocha Café, Starbucks, The Temeraire, Waitrose, the Library, Lord Butler Leisure Centre and the Tourist Information Centre (TIC)
As part of the scheme, participating venues are offered the opportunity to take part in an ongoing programme of dementia awareness training.
Great Dunmow and Saffron Walden have joined a network of towns across the county who are part of 'Keep Safe Essex'. Other towns involved include Braintree, Brentwood, Chelmsford, Colchester, Maldon and Tendring. Keep Safe members can ask for assistance at participating venues across the county.
For more information visit www.keepsafeessex.org.uk
Do you think that you or someone you know could benefit from the Uttlesford Keep Safe scheme? Would you like to know more? If so, contact Uttlesford's Community Safety Officer Angela Greneski by email agreneski@uttlesford.gov.uk or call 01799 510555.
Videos