Local elections 2023
There will be full district and parish elections in Uttlesford on Thursday 4 May 2023.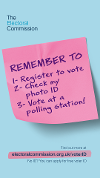 The
last election of town and parish councillors
was in 2019.
All 22 district wards and 53 parish councils will hold elections for new members.
May 2023 will be the first time that voter identification will be required to be shown by all voters at a polling station. This has been introduced under the Elections Act 2022.
Find out what is an acceptable voter ID and how to request a Voter Authority Certificate if you have no suitable form of photographic identity.
How to stand
Full guidance on how to stand for the elections is on the Electoral Commission's website. The guidance covers eligibility; how to stand; permitted expenditure; the campaign; your rights and what happens after the declaration of the result.
If you are thinking of becoming a parish councillor and want to serve your local community, The National Association of Local Council has general advice and information.
Candidates and agents briefings
We are running two briefings sessions for candidates and agents - one in February and one in March via Zoom. These sessions are for anyone standing for election or re-election and will explain how the election will be run for the parishes and district council.
February briefing
Watch a recording of the briefing from 22 February
Passcode: ap6w1&!G
Download the presentation slides (PDF) [426KB]
Nomination process
Local Elections Nominations

The nomination page includes essential information about the polls and key documents to complete and return, such as the nomination paper to be hand delivered to the Returning Officer, and others that can be scanned and emailed to candidateinfo@uttlesford.gov.uk.

Postal vote opening sessions
All local candidates and district election agents are entitled to attend the postal vote opening sessions. They are also entitled to appoint up to 2 postal vote agents to observe. At least 48 hours' notice must be given to the Returning Officer if anyone wishes to attend. The opening sessions will take place in the Council Chamber, Council Offices, Saffron Walden.
Sessions - all from 9.30am
Thursday 20 April
Friday 21 April
Monday 24 April
Wednesday 26 April
Friday 28 April
Tuesday 2 May
Wednesday 3 May
Thursday 4 May - polling day and a final opening session will take place at the same venue from 8.30pm on polling day
A form will appear here to appoint postal voting agents

Key deadlines
Nomination of candidates time period - from publication of the Notices of Election (district and parish) until 4pm on Tuesday 4 April 2023
Registration to vote deadline - 12 midnight on Monday 17 April 2023, register online now
Postal vote deadline - 5pm - Tuesday 18 April
Proxy vote deadline - 5pm - Tuesday 25 April
Voter Authority Certificates deadline - 5pm - Tuesday 25 April
Poll cards
Poll cards will be issued to all registered electors as soon as possible after the Notices of Election have been published at the end of March.
If you have not received a card by 7 April it may mean you are not registered. If you have moved in early 2023 you need to have ensured you have re-registered at your new address. Please contact electoral services if you have not received a poll card.
Poll cards are changing!

From May 2023, in order to list the suitable form of photo ID acceptable at a polling station, poll cards will be A4 size and delivered in an envelope.
Acceptable voter ID will include a passport, driving licence and a national concessionary bus pass. Certain other ID will also be acceptable and will be listed on the back of the card. The ID does not have to be valid provided that the photograph is still a suitable likeness. If you do not have any of the ID listed, you can apply for a apply for a Voter Authority Certificate that will be posted direct to your registered address.
The poll card will list the electoral areas - ward and parish council, though not all areas will have both elections as many parishes are likely to be uncontested. At the polling station and with postal votes, electors will be presented with one or two ballot papers - different colours. It will say how many votes you have on each ballot paper.
Portal votes will be issued as soon as possible after the close of nominations. These are sent by first class post. However if you applied near the deadline these will be posted by the Friday before polling week.
If you have appointed a proxy to vote on your behalf at your allocated polling station, both you and your proxy will be sent a card.

Find who is standing and where to vote
To help you find out about the elections in your area and which candidates are standing we've worked with an organisation called Democracy Club to build an online election, candidate and polling station search tool.
This tool does not include details of town and parish council elections.
Polling stations
Your poll card will tell you which polling station you need to go to.
At the polling station and with postal votes, electors will be presented with one or two ballot papers - different colours. It will say how many votes you have on each ballot paper.
We'll publish a list of all the polling stations near to the time of the election. We also have information on access for voters with disabilities.
Support for voters with disabilities
The Electoral Commission has issued 2 guides to support voters:
Voter ID: supporting blind and partially sighted people to vote in the 2023 English local elections (PDF) [184KB]
Voter ID: easy read guide for people with learning disabilities (PDF) [1MB] . This guide tells you everything you need to know about photo ID for the local elections.

Notices
These will appear here in accordance with the legal timetable

Pre-election period
We have put together some guidance on conducting council business, publicity and events during the pre-election period for the polls being held in May 2023. The pre-election period for these local elections will start from Wednesday 22 March 2023.

Results
Uncontested election results - to appear here

Contested election results
The district and parish council elections' verification and counts will take place on Friday 5 May 2023 at the Lord Butler Leisure Centre Saffron Walden. Full details will be provided to those entitled to attend.
These will appear here as they are declared on Friday 5 May 2023.